Hii… I'm back with next part of my story…… Actually i posted this part several times before also but it didn't get published…. Don't know what issue TU is having….. 
Let's Start… 
Dhruv: Ek kahani sunau…
Kavya: What?…
Dhruv: Just listen…
Yeh kahani hain ek deewane ke…. Jo pyaar ke baare mein kuch jaanta na tha… Ek tarfa mohabbat mein kuch khaas manta na tha… Wo aksar socha karta tha yeh kaise ho sakta hai.. Koi kissi ke intezaar mein aapne puri zindagi bhi kho sakta hai?…. Lekin yeh shayad kuch der ka gumaan tha… Kyunki kismat ne isske liya bhi taiyaar kiya mohabbat ka ek jaam tha…. Ek din uske ankhein takrayi kissi se… Yeh wahi thi kismat usse milana chahti thi jisse… Usse dekhte hi mano wo usmein kho sa gya tha… Mohabbat ka ek fasaana ab shuru ho hi gya tha.. Wo ek apsaara se thi… Jo mojud ho hr jagah aise azaad hawa se thi… Usse milke mano uske zindagi badalne lgi.. Ab toh wo usse uske khwabon mein bhi milne lgi… Ek arse tak wo apne jazbaaton se ladta raha yunhi… Phir ek roz usse ehsaas hua ke usse ussse mohabbat hai hui… Ab wo apni Chahaton pr aitbaar krna chahta tha… Apni mohabbat ka usse izhaar krna chahta tha… Khudko samjhakar thodi himmat jutta kr… Wo jaane laga apna haal-e-dil baayan krne… Pr shayad kismat ko yeh manzoor na tha… Lekin dekha jaaye toh kismat ka bhi iss mein kuch khaas kasur na tha… Jisse dhund raha tha wo hr mod pr.. Woh toh jaa chuki thi uss sheher ko bhi chod kr… Jaane ke baad unke wo kuch akela sa hone lga… Jaane kis tanhai ke aalam mein khone lga… Abhi wo khud ko sambhal he raha tha ke kismat ne ek aur zakham de diya… Usse uske ek aur azeez ko le liya… Ek taraf wo ruh jo dil ke haaton haari thi aur dusri taraf kandhon pe zimmedaari thi… Wo apno ke liye apne aap ko khone ke liya taiyaar tha.. .. Auro ki khushi ke liya khud fanaa hone ko taiyaar tha.. Pr abhi bhi dil mein kuch umeed baki thi… Abhi bhi tanhai mein unki yaad satati thi… Phir ek baar kismat usspein meharbaan hui.. Wo ek baar phir usse  dhundhne chala… Pr kismat mein kya tha yeh kisse tha pata… Ab ek baar phir en nazro ko wo nazar aayi… Usse dekh ke mano uski jaan mein jaan aayi… Kitna chahta tha usse… Yeh dil kehna chahta tha zor se… Pr usne toh yeh socha he nhi tha ki unhein bhi toh mohabbat ho skte hain kissi aur se… Dekh ke yeh manzar usske neeche se zameen nikal gyi… Milli thi jo khushi abhi abhi wo phir se chali gyi… Ab wo puri tarha tuth chuka tha… Iss zindagi se kuch ruth chuka tha… Ke jisse chahta tha wo khud se bhi zyada wo kissi aur ko chahta tha… Yeh jaan ne ke baad wo kaise kissi se apna haal-e-dil bayaan kr paata… Ab apne inn jazbaaton ko usne khud mein he daba liya tha… Apna tute hue dil ko iss duniya se chupa liya tha… Ab ek arsa beet chuka tha unhe yuhi tanha rehte rehte… Shayad yhi tha kismat mein yeh khudse kehte kehte….
Suddenly kavya listen aarush's cry….
Kavya: Sorry dhruv… But i have to go… I'll talk to you later… Good night…
Kavya leaves…
Next day….
Dhruv is leaving for office after breakfast….
Kavya: Then what happened?…
Dhruv: What?…
Kavya: What happened to that boys story?… I mean did he get his love…
Dhruv: Will talk in evening… Bye…
Dhruv leaves…
Kavya whole day think about the story….
In evening….
Dhruv comes home…
Kavya go to his room….
He saw kavya standing outside her room….
Dhruv: Kavya… What are you doing here…
Kavya: I wanna know… Does he never saw that girl again…. Do he still loves her?… I mean what happened in the end of story… Does this story have a happy ending?…
Dhruv: Come inside….
Kavya follow dhruv to his room….
Dhruv: What do you think?… What should happen?… If someone gave you the chance to bring change in this story… And decide it story's ending.. .. Then what will you do?
Kavya: It's very complicated… I mean… I'm not sure… But still… If i get chance… I'll surely try that the boy again meet that girl and tell her about her feeling… Maybe she say no to him.. Or she'll move on with other person or the person she loves… But still… He had to take a chance… He had to confess… If he doesn't tell then there is nothing left… She'll never got to know that someone loved her so madly…
Dhruv smiles….
Kavya: Why are you smiling… Did i said something wrong?…
Dhruv: Do you really wanna now what happened next?…
Kavya: Yes…
Dhruv: Then listen…
Then once again… That girl come in front of him… But he is confused what he'll do now…
Izhaar kre ya phir se aapne dil ko inkaar kre…
Kavya: Matlab….
Dhruv: That story doesn't end yet…
Kavya : Then how do you know that much about that boy?… And how it's connected to my photo?…
Dhruv: First tell… What do you think?… If that boy again met that girl… He should confess or not?…
Kavya: He should… The girl also has the right to know that someone loves her so madly…
Dhruv: Ok…
Dhruv goes and open his almira and brings an envelope…
Dhruv: In this envelope… There's photos of that girl whom he loves madly…
Kavya opens the envelope… She get shocked and envelope fell from her hand…
Kavya: What??…
Dhruv looks at kavya and says:
Jab yuhi tum meri bahoon mein giri thi tab se tumse pyaar kiya hain … Jab pehli baar tumhare nigaho mein duba tha tab se tumse pyaar kiya hain… Jab pehli baar tumhari haseen muskaan ko dekha tha tab se tumse pyaar kiya hain… Jab dekhte he tum mein kho gya tha mein tabse tumse pyaar kiya hain… Ab toh khudhe nhi pta.. Ke kab kaha aur kabse tumse pyaar kiya hain… Bss tumse aur sirf tumhe se pyaar kiya hain….
Tears fell from dhruv's eyes…
Kavya looks at him in disbelief….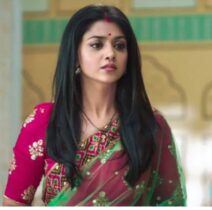 Dhruv with teary eyes says….
Tumse aur hmesha tumhe se pyaar kiya hain….
Kavya leaves from there without saying anything…..
Kavya cries in her room….
Kavya thinks: What is all this vyom?… I'm really missing you… I don't know what to do?..I don't even know how I'll react… I just don't know…. Plz help me… I'll leave from there… I can't hurt him anymore… Already unknowingly i hurts him a lot…. Now i understand… That's why i was feeling like i saw him before also… Does kabir know he loves me?… No.. Otherwise kabir will never have bring me here… What'll i say to Kabir that why I'm leaving suddenly… Ohh god plz help me… I can't hurt dhruv anymore….
Whole night both dhruv and kavya was thinking about each other…
Next day…
Kabir comes to kavya's room…
Kabir: Listen kavya..
Kabir looks at kavya…
Kabir: What happened kavya?… Are you ok?…
Kavya: Yes… I'm.. What will happen to me?.. I'm completely fine…
Kabir: Atleast don't lie to me…
Kavya hesitates: No I'm not…
Kabir interrupts….
Kabir: Why you was crying?
Kavya: I was not…
Kabir: Kavyaa…
Kavya break down in tears…
Kabir: Kavya… What happened?… Did someone said something to you?…
Kavya: I'm just missing vyom…
Kabir: I'm also… But we can't do anything… It's our fate… Destiny snatched him from us… We can just remember him with good memories… And believe me he also just want to see you happy…
Pooja comes there and saw kavya crying…
Pooja: Kavya?… Why are you crying?…
Kabir: She is missing vyom…
Pooja consoles her…
Kabir: ohh… I forgot… I came to tell you that as you're my best friend i want you to handle my wedding's all function…
Kavya: But…
Pooja: Please kavya… Only because of you we again met…
Kavya: Listen but…
Kabir: No if and but… You and aarush is a very important part of my life…
Pooja: Kabir… Maa was finding you… Actually i came to call you but i forgot… Let's go… Otherwise maa will be angry…
Pooja and kabir leaves…
Kavya thinks: What should i do now?.. I can't even leave….
Kavya is passing by dhruv's room… He saw aarush with dhruv and stops…
Dhruv: So… Do you like chocolates…
Aarush: I love chocolates..
Dhruv gave chocolates to aarush…
Aarush: I wanna ask you something?…
Dhruv: Yes… Speak…
Aarush: Why you daily gave chocolates to me…
Dhruv: So that you're whole day become sweet like these chocolates…
Aarush: I love you…
Dhruv: Love you too… My champion…
Dhruv saw kavya standing on the door…
Aarush runs and go near kavya. . . ..
Aarush: See… Mumma… I have so many chocolates… Do you also want?… He'll gave you also… He is also very sweet like this chocolate…
Kavya and dhruv had an eye lock…
Mujhe Pyar Hua Tha
Ikraar Hua Tha
Mujhe Pyar Hua Tha
Ikraar Hua Tha
Hai Tamanna Humein
Tumhein Dulhan Banaye
Tere Hathon Pe Mehndi
Apne Naam Ki Sajayein
Tere Lele Balayein
Tere Sadke Utaarein
Hai Tamanna Humein
Tumhein Apna Banaye
Nahi Mushkil Wafa
Zara Dekho Yahan
Tere Aankhon Mein
Basta Hai Mera Jahan
Kabhi Sun Toh Zara
Jo Main Keh Na Saka
Meri Duniya Tum Hi Ho
Tum Hi Aasara
Duyaein Suno
Sajayein Suno
Mujhe Pyar Hua Tha
Ikraar Hua Tha
(Song plays in background)
Kabir is sitting in his room thinking something…
Pooja comes…
Pooja: what are you thinking with so much shiddat?…
Hope you guys like it…. Tell your views in comment… Bye…

… 
The post Sacrifice of love – A Jabir FF – Part 31 appeared first on Telly Updates.